Description
Thinner, lighter, more evolved GPS pilot watch with band and bezel options and customisable face art to match your style
Features METAR and TAF screens for the latest aviation weather information at a glance
Dedicated Direct-to and Nearest buttons enabled by a worldwide airport database
Baro-adjustable altimeter, HSI, Zulu/UTC time reference, various timers and alerts plus wireless control for VIRB action cameras
Activity tracking, multisport profiles
Function for Better Flying — and More
With streamlined mode selection, a crisp colour display, enhanced graphics, added wireless connectivity options and easy-to-access METAR and TAF screens for weather information at a glance, the D2 Bravo is a true GPS-based flight system in a wrist-worn configuration. This watch doubles as a stylish, highly accurate timepiece that any pilot or aviation enthusiast could proudly wear anywhere, anytime — whether that's a fly-out round of golf or an overnight business trip with a morning jog before a client meeting.
Sharp Display, Sharp Look
Every pilot needs a backup plan and the D2 Bravo is a smart choice. Boasting a high-sensitivity GPS receiver, altimeter with adjustable baro setting and a 3-axis compass with HSI course indication as well as a premium sapphire lens offers superior hardness and scratch resistance. A bright, extra-crisp, full-colour Garmin Chroma Display features LED backlighting for great visibility in all lighting conditions. Additionally the watch can be personalised to display your aircraft tail number.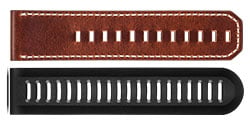 The D2 Bravo provides a distinct look that delivers a stylish appearance and extra-rugged durability.  D2 Bravo features a brown leather or black rubber band and stainless steel bezel and buttons.
Fly Direct-to or Nearest With Ease
Using its built-in worldwide airport database, the D2 Bravo series lets you access either of our signature Direct-to and Nearest routing functions by simply pressing dedicated buttons. So, you can fly straight to the location or waypoint of your choice — or find the nearest airport if you need to land quickly. You can view your route on a basic moving map display. Or, follow the HSI course needle to your destination. By setting your own waypoints, you can also navigate easily to any location not included in the database. In fact, you can even create Mark on Target waypoints, with the Save Location feature, to easily reference — and return to — locations you've flown over.
Keep an Eye on the Weather
For at-a-glance updates on the weather for your departure airport or your destination, the D2 Bravo works wirelessly with your compatible smartphone to bring you a screenful of current plain-language terminal forecasts (TAFs) and meteorological reports (METARs), including winds, visibility, precipitation, cloud cover and heights, temperature, dew point, barometric pressure and more — all colour-coded to indicate VFR or IFR flight. You'll have all the vital measurements you need for smart pre-flight decision-making — as well as smart notifications and alerts enroute.
Automated Flight Logging
With Garmin Connect-capable technology, you can navigate with confidence, and you even have the option to create flight plans. Plus, the D2 Bravo provides you with a convenient way to maintain a consistent log of your flights; during takeoff, it detects a change in altitude, which initiates the logbook function to automatically begin recording date, duration, total flight time and route. Then, it syncs logbook data with flyGarmin.com as well as the Garmin Pilot application on your compatible mobile device.
Customisable Displays and Timers
To aid in situational awareness, you can assign customisable data fields to display GPS groundspeed, GPS track, distance from waypoints/airports, estimated time enroute, bearing, glide ratio and other useful flight parameters. There's also a handy altitude-alerting feature that can be set to notify you when reaching or leaving a preselected altitude and you can select the stopwatch function for timing approaches or flight legs. What's more, the baro-based O2 Altitude alert feature provides preset vibrating altitude alerts when you're operating above 12,500 feet to automatically notify you when supplemental oxygen is required. Plus, various other timer functions with vibrating alerts can be set to remind you when it's time to switch fuel tanks or perform other time-critical tasks and, with free downloads from our Connect IQ store, you can add data fields and get apps and widgets that provide additional lifestyle information at a glance.

Stay Active Away from the Airport
The D2 Bravo watch doesn't just enhance your flying, it enhances your life. It boasts multisport activity profiles, including golf, running, biking, swimming, rowing, hiking, skiing and more — and it's water-rated to 100 meters, so it can withstand swimming and other water activities. Additionally, with the recently updated Garmin Connect Mobile app, you can download more than 40,000 golf courses worldwide for precise course data, and use your watch as a digital scorecard.
For everyday wear, the D2 Bravo incorporates activity tracking functions*, which count steps and provide a customised step goal each morning, while also counting calories and distance throughout the day. It also features a vibration move alert after 1 hour of inactivity and sleep mode to monitor quality of rest at night.
Control your VIRB Action Camera with Your Watch
The VIRB family of HD action cameras (sold separately) lets you capture the beauty and precision of flight in stunning detail. With its wireless connectivity, your D2 Bravo watch can also be used with your VIRB camera to remotely start/stop video, view elapsed time for recording or even capture high-quality still photos — while shooting live video. You can even control multiple VIRB cameras at the same time, to capture the action from multiple angles.
Regardless of whether you're at the golf course, the boardroom or flying at 12,000 feet, the D2 Bravo offers custom-tailored features that set it apart from any other aviator watch on the market. The D2 Bravo combines the GPS wearable technology that Garmin is known for with a sleek form factor that suits your life both inside and outside of the cockpit.
Wear Your Personality on Your Sleeve
Download the free Garmin Face-It watch face app to customise your device with any photo from your smartphone. Simply download the app, choose an image from your photo library, adjust the style for time and set it as your watch's face. Whether it's a scenic view from your last hike or a picture of your new puppy, with Garmin you can add personality to your watch that's uniquely you. Available on App Store and Google Play.